Your title page is how you make a first impression when writing in MLA format. Creating a correct title page is easy to do, and something you should be able to do on your own after some practice.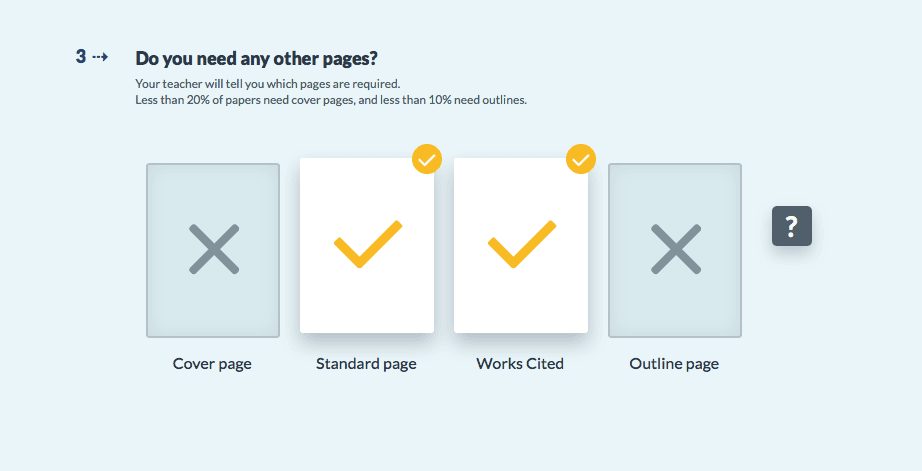 Until then, let Formatically help you create your title and cover page for you! It's easy, quick, and correct every time!
The Simple Guide
Since your title page is the first thing your teacher will see when grading your paper, you want it to be perfect. Incorrect or sloppy title pages are a major pet peeve of English teachers because it shows you don't pay attention to details or directions. The last thing you want is a teacher to think you're lazy right off the bat!
If you follow these simple steps – or just sign up to use Formatically - you can create a title page with ease!
Step 1: Adding Page Numbers
MLA format requires that you add your last name and page number in the upper-right corner of each page.
Here's how you do that in Microsoft Word:
1. Go to the "Insert" menu at the top of the page, and select "Page Numbers."
2. Select the options "Top of Page" and "Right," then click "OK." The front page of your paper should start with the number 1.
3. To add in your last name, put the mouse just to the left of the number 1 on the front page and double click. You should now be able to add your last name just to the left of the page number.
4. That's it! Once you set this up, the file will automatically update the page numbers as you type, and each page will keep your last name too!
Step 2: Name & Course Information
Once you set up the page numbers, you need to add some basic information to the upper-left corner of the page. This information allows the reader to know who wrote the paper, which professor and course it's from, and the date. In the event your paper gets put in the wrong class pile or goes missing, it can be easily returned to the right teacher when found.
In the upper-left corner, double-spaced, add the following information:
Your Full Name
Your Teacher's Full Name (Example: Dr. Brad Smith / Mrs. Mary Williams)
Your Course & Section Number (Example: Biology 101 Section 2A / ENG 202-11…or however your school usually labels courses)
Today's Date (Example: 1 March 2018)
Step 3: Adding the Perfect Title
Now that you have the basics done, you can add an amazing title to your paper! MLA titles are the same text format as the rest of your paper – no bolding or underlining! They are centered on the page, and you skip a line after the title before starting your paper.
Some advice on creating good titles for your MLA style papers:
The title needs to give the reader an idea of what the entire paper is about. Because I know papers "evolve" as you write them, I highly recommend creating your title after you write the paper!
Capitalize the first word and all other major words in the title. In the title, don't capitalize words like "a," "the," "of," etc.
Don't be boring! Create a title that grabs the reader's attention!
Example of a bad paper title:
Global Warming
Example of a much better paper title:
The Effects of Global Warming on Millennial Job Opportunities
Once you've done all of this, your title page should look something like this:
**Add sample image of MLA title page here?**
Step 4 (Optional): Add a Cover Page
Most teachers won't ask you to create a cover page in MLA format because it's a waste of paper, and all the information they need is already on your title page. In fact, unless they specifically ask you to make one, don't worry about it!
However, if they do ask you to make one, here is the basic format:
One-third of the way down the page, add your paper title
2-3 lines down from the title, add your full name
2-3 lines down from your name, add your class & section number
On the next line down, add your teacher's full name
On the next line down, add the date