Let Formatically help you format your header correctly so you can spend more time on, well, anything else! The MLA heading tool is built right into the free MLA formatting tool.
How to Format MLA Headings Automatically
First, you'll need to create an account with Formatically. You can do that here.
Once you have an account you'll be taken to the MLA Formatting tool. Now we can set up your heading. Click on any of the highlighted text to open the editor.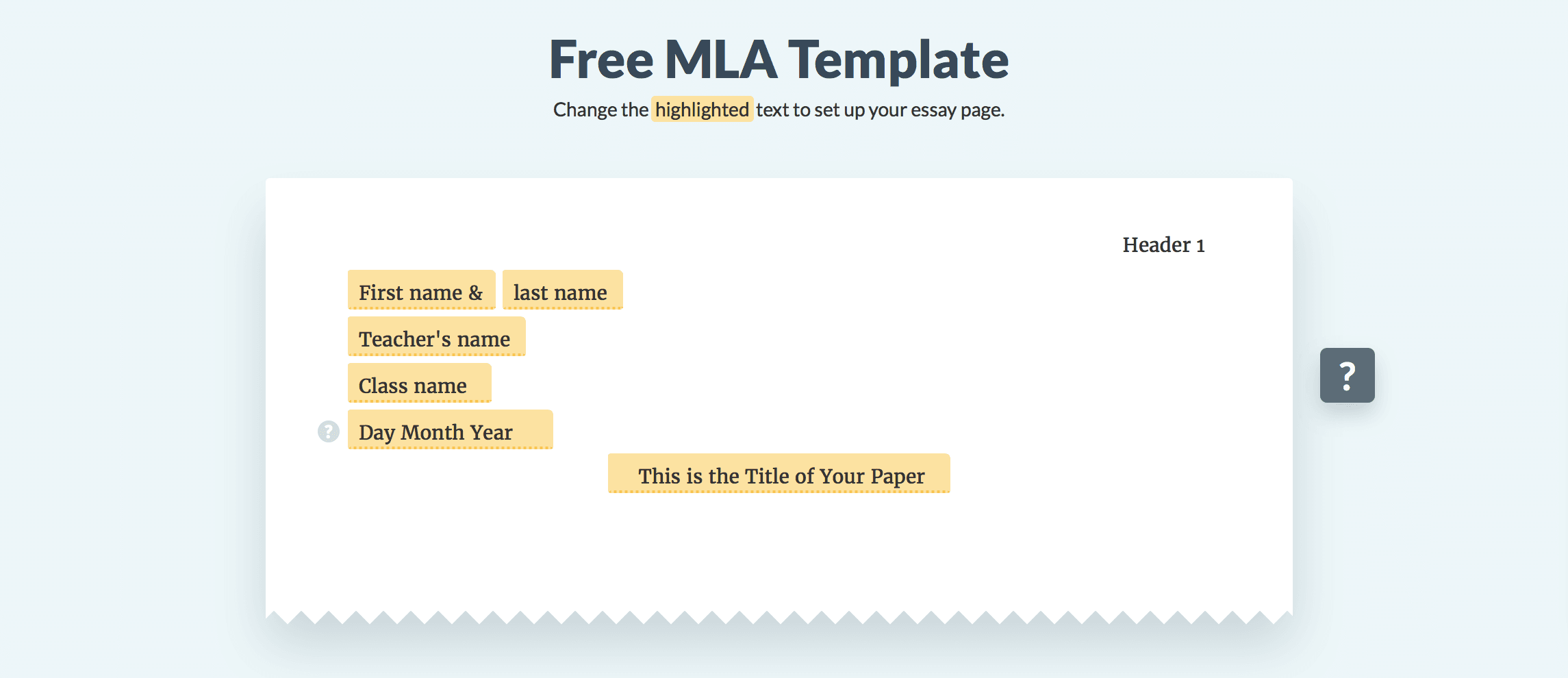 Type your last name in the "last name" field. You might as well fill out the rest while you're there. 
As you type, Formatically will assemble your document in the background, adjust spacing, add page numbers check capitalization and more. The preview will show you exactly what you'll be getting when you hit download.
That's it! We built Formatically so we could all skip the tedium of formatting forever. Our tools will automatically format any part of your assignment in perfect MLA format.
If you insist on using Word, Google Docs, or Page to set-up your paper the hard way we made this article to help you out. Click on the links below to navigate the appropriate section.
What are MLA Headings?
Headings are common features of MLA format requested by teachers and professors. A heading is simply your last name followed by the appropriate page number or roman numeral. It lives in the top right hand corner of the page, and is formatted like most other elements in MLA. It's 12 point, double spaced, and times new roman (or another legible font requested by your teacher). The only major deviation in formatting is the heading is set only ½ inch from the top of the page. All other elements- excluding the cover page- are set 1 full inch from the top, left, right, and bottom of the page.
Why use a page header?
The header is a quick reference point for your professor to identify you as the writer, and their place in your paper. A properly formatted heading is most useful in longer works. When a teacher is grading a 20 page essay it's nice to have page numbers for referencing feedback, and it's nice to have your last name as a constant reminder that this is in fact your paper.
Need help with anything else?
Formatting MLA in-text citations
Other MLA & APA Formatting Resources
Word 2016 - 2017 (Mac and Windows)
Essay and Bibliography pages
Find the Insert option in the toolbar at the very top of your page.
Click the small box that says Page Number. It has a picture of a small paper with a # sign.
Hover on the first option in the list that says Top of Page.
This will show a drop down list with different options for placing your page numbers. You want the 3rd option that says Plain Number 3.
A dotted line should appear signaling you've successfully created a header. If your screen matches the images below you can click again on the left hand side of the number and type in your last name.
This will add the appropriate page number to every individual page header. If you have a cover page be sure to exclude the header from that page.
Before you finish, you'll need to double check that your header font is approved by the MLA. Times New Roman in 12pt font is widely accepted by most professors.
To finish click the orange button that says Close Header and Footer
Outline Pages
Formatting a MLA heading on an outline page is very similar to formatting one on any other page. The steps for essay and bibliography pages in Word 2016 differ by several steps: In order to properly format both your outline pages, and your regular MLA headings you're going to need to open up a separate document. It's not possible to create two different types of headings within a single document, so you'll need two for this to work.
Once you've opened a second document double click near the top right hand corner of your first outline page. Next, type in your last name. Click on the Page Number button in the Insert section and click Format when the pop-up window appears. At the very top of the box there will be a drop down that reads Number format. Click on the 5th option that reads i, ii, iii ... to add Roman Numerals to your document.
Click OK twice
Now, word will automatically assign a numeral to each outline page in your document. You'll want to double check that the font type and size are still Times New Roman 12pt.
Final Thoughts
Word is a very useful, yet very bloated piece of software. It can certainly help you format your paper, but we don't recommend it. One major issue I had with Word when I was in high school was it's inclination to change fonts, sizes, and line spacing on a whim. I can't count the number of assignments I turned in with an incorrectly formatted page heading.
Word 2011
Essay and Bibliography Pages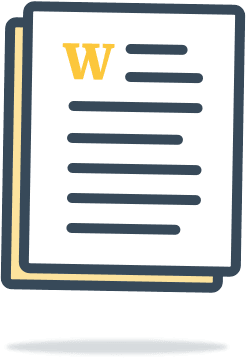 Double click in the header area at the top right corner of your page. You'll see a blue line appear signaling that you are editing the page heading. Align your text to the right using the alignment buttons in the middle of your toolbar.
Next, hover over Insert in the main menu at the very top of your screen. This will open a list. Select Page Numbers… from the list.
This will show a dialogue box with specific formatting options for page numbers.
Check that the alignment is set to Right. If you have a cover page uncheck the box next to Show number on first page. If you don't have a cover page you keep it checked. Under that check box click the button that says Format.
Double check that your number format is set to standard 1, 2, 3… Click OK. Then click OK again.
Now you should have page numbers automatically placed on each page. Last, you'll want to type your last name by clicking to the left of any page number.
Close the header and you're done!
Google Docs 2017
First thing you're going to want to do is go up to the Insert button at the very top of your screen.
Click on and find the the option that says Header . Click on that and you're screen should look like this once google docs has opened up your header.
Now head on over to your font and make sure it's set to something approved by your teacher and the MLA.
Next change 11pt font to 12pt font.
Next we'll head over to the justification and alignment buttons and select Right Align.
Hit the enter/return key on your keyboard twice. This will bring your header down and away from the top of the page. It a proper MLA heading is about ½ inch from the top.
Now you're going to type in your last name. Not your teacher's last name, but your last name. Hit the spacebar once after typing.
Head back up to the insert button and find the line the says Page Number. Click on the first option you see.
Whether you click on the check box next to Different first page Header/Footer is up to your teacher. Some teachers ask that the heading be included and others ask that it be left off.
Final Thoughts
I much prefer Google Docs to Microsoft Word. Their online word processor is, in my opinion, cleaner, faster, more flexible, and less bloated. I have yet to find a feature or task I could not accomplish with this tool. That being said, it sucks at formatting. Hence Formatically.com.
Pages 2016 (for iOS)
Head up to the top of the page and hover there. You should see a row with 3 columns appear. Click in the column furthest to the right and wait a box to appear underneath like so.
Now click on the Insert Page Number button.
Hit the left arrow key until you are in front of the number and type your last name.
Change the font to Times New Roman, 12pt font.
For headings on your outline page you'll need to manually type each roman numeral. This will have to take place in an entirely separate document so the headings don't overwrite each other.
Final Thoughts
Pages is not a perfect tool when it comes to formatting. I would rank it 2nd behind Google Docs and ahead of Word. It has the fewest features, fewest options, and is therefor the easiest to figure out. It's not a perfect solution for MLA formatting by any means, but that's to be expected. Pages was built as a general word processor, and not a formatting machine.
Thank you!
Please check your email.
Any questions?
More About MLA Headings.
It may not seem like it, but your headings are a very important aspect of any essay that you right. The problem is that making headings can be somewhat time consuming, time that you could be using to actually write your paper. The headings on your title page and throughout the essay might seem like a minute detail. However, when it comes to your professor and the grade you are awarded, it can actually make quite the difference. You can make sure that the difference is the right one when you use a tool like Formatically.
There is also the fact that different essay styles and citation styles will result in different headers. The key takeaway here is that there is a much easier way of making your headings. Sure, you could do them manually, but when you have a great tool like Formatically at your disposal, there is really no need for that. The Formatically header generator tool can create the perfect headers in mere seconds. It requires little to no time and even less effort on your behalf. 
You already spend more than enough time writing the papers, so don't waste any more of it with something like a header. At this point in time, Formatically is free to use, but to get access to all the features in full, you will need to get yourself a premium Formatically account.
More About Formatically's Header Tool
The Formatically MLA header generator is a really simple tool that you can use to quickly make headers. Sometimes people make headers separately one page after the other, which is of course a massive waste of time. Even if you have a good writing program that lets you make your own header, they can still be a little bit confusing to use, not to mention that they don't always work that well either. 
With the Formatically heading generator, simply insert all of info where prompted and the MLA headings will be automatically generated. For the title page, you will be asked to enter info such as the title of the paper, your name, the professor's name, the date, and the class. Simply enter all the info when prompted and you are good to go. Keep in mind, many MLA papers will have the info on the title page listed as a header, but this is not always the case. There is in fact a separate Formatically tool that is specifically designed to create a title page for you. However, that is not to say that you don't want or need a header on that title page. 
As for the heading on the body pages of your essay, all you have to do is type in your name and the rest of the work for you. Your name and the page number will be put on each consecutive page automatically. The Formatically heading generator is a very quick and simple to use tool that will save you a lot of time at the end of the day. Keep in mind that while this feature is free to try, if you want to download the feature so you have it right onto your computer, you will need to get yourself a premium account.
What Is An More about MLA and why you need an mla header?
Well, to begin, MLA is a specific style of citation that many different subjects require you to use. MLA stands for Modern Language Association and is most often used by the humanities and social sciences. It is a very easy and straightforward way of making citations. An MLA header is the block of text at the top of the page, usually the right side. When it comes to your title page, the header will usually consist of your name, the page number, the name of the course, the date, and the professor. 
However, when it comes to the body of your essay, or just the pages after the tittle page, the header will simply consist of your last name and the page number. An MLA header will generally be double spaced, in size 12 font, in the Times New Roman font, and will be located ½ inch from the top of the page on the right side. 
Simply put, it is a quick reference for your professor or whoever is reading your paper. They can quickly locate your name and page number as a reminder of where in the paper they are and who it is written by. A header with a page number might not be as important for a shorter piece, but for anything over 10 pages in length, a page header with page numbers is definitely appreciated.
More Dos And Don'ts
Making your own MLA heading is not all that difficult, but to get full marks there are a certain few things that you need to do right. There are also a few things that you will want to avoid doing at all costs. Let's get right down to it and talk about the dos and don'ts of making an MLA header.
Do add a cover or title page as requested by your professor. If the professor does not request a title or cover page, then don't add one. However, in most cases where academic writing is involved, a good cover page is always a bonus. If you do need a cover page, Do it in the following format.
When it comes to your heading, as well as the whole paper, a big Do involves using Times New Roman as your font and keeping it at size 12.
Do format your header so that it is ½ inch from the top of the page on the right side. However, don't change the margins of your paper, especially on the sides, because that will look odd. Also, don't change the format of the MLA header. There is one format and that is it, so stick to it at all costs.
Do make sure that all pages have your last name and are correctly numbered. When it comes to the body pages of your essay, do use this format:
·       Last Name, Page Number
The most important thing to remember when making MLA headers is this; always do remember to give the professor what they want. This is just like a restaurant. Just like the customer is always right, so is the professor. 
Making An MLA Heading Manually
Let's just quickly cover how you would make an MLA heading in your essay if you were to do it manually.
Microsoft Word – Windows
Making an MLA heading in Microsoft Windows, using word, is not too difficult. Simply double click at the top right hand corner of the page. A tint will appear on the page with a dotted line. Once you see this, click again in the top right corner and enter your last name. You can then go to the toolbar at the top of the page, the one that says "page number" and select the style you want. Many of the MLA heading styles will have the page number appear anywhere but at the top right hand corner, but this is easy to change by choosing the right setting.
Word – MAC OS
The process for MAC is more or less the same as for Microsoft Windows. Just double click the area where the header would be, align the text to the right, and then click on the insert tab. Once you are hovering over the insert tab, select the one that says "page numbers". Simply select the setting that has the header at the top right of the page, select the standard 1,2,3, numbering format, and align it to the right.
Google Docs
It is not too hard to make an MLA heading on Google Docs either. Simply go to the "insert" button at the top of the screen and select "header". Simply change the font to 12 and Times New Roman, select "align right". Enter your name and then "insert page numbers". 
Final Conclusion
At the end of the day, you could waste your time making MLA headings manually, but time is money. You should try out the Formatically MLA heading generator tool to make your life much easier. You can try the feature for free if you choose, but you are better off just getting a premium account so that you have access to all the possible features.
Subscribe for
updates & discounts.
Thank you!
Please check your email.
Any questions?
Related Resources/Inspiration