Most students learn how to cite sources in MLA while in high school, as it's the standard most schools use. Once you get to college, it's common for you to learn different ways to cite your sources. Some students keep using MLA, while others have to learn things like APA and Chicago.
If you need help learning how to properly cite your sources using APA style, you're in the right place! Formatically can help you search for sources to create a bibliography and use the right in-text citations. We also included an easy-to-follow guide to help you understand how APA works, so you can use our tools effectively!
With a little practice, and a little help from Formatically, you can easily master APA style by the time you finish your first paper!
APA Citations are Coming Soon!
In the near future (there are only two of us, so maybe in a year?) Formatically will help format entire papers in APA. Until that time you can sign up for early access, discounts, and updates at the APA Beta sign up page.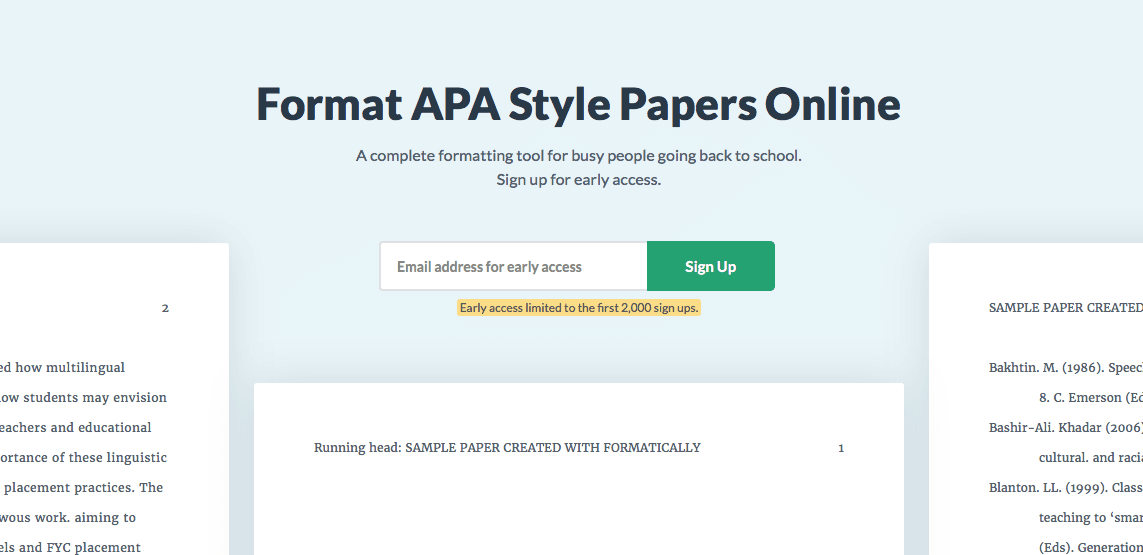 APA Citations: A Quick & Easy Guide
You may already be familiar with how to do MLA citations, which is great! Learning how to cite your sources in APA is easy if you understand the reasoning behind why we use MLA or APA styles when writing research papers.
What is the difference between MLA & APA style?
MLA and APA are both types of research documentation, and while they look similar, there are some key differences between the two. The biggest difference is why we use each of them:
MLA was created by the Modern Language Association for people in the arts and humanities to properly cite their work. Writing research papers in areas like literature, art, theatre, etc. means using sources from any time period, so professors don't really care what year a book or article was written. Instead, they want writers to focus on the author name and title of the work instead.
APA was created by the American Psychological Association for people studying in the sciences to cite their work. Instead of putting the focus on the title, APA focuses on the year a source was written. This shows your readers that you are using the most relevant and recent sources for your paper. You don't want to use a 200-year-old article on medicine because it could be outdated or potentially dangerous – and your professor won't want you to either!
Who uses APA style?
APA style is generally used in science-related fields, like biology, psychology, engineering, medicine, etc. Since the focus of scientific research is to use the most up-to-date sources available, using APA is much better to use than MLA.
If you're not sure whether to use APA or MLA citations in your paper, read over your course syllabus carefully or ask your professor! You don't want to fail or rewrite a paper because you didn't use the right citation style!
How do I cite a source if…?
…it's a book or article with one author?
The general rule of thumb is to include the author's last name and the year of publication somewhere in the sentence. If you are using a direct quote, include the page number too – it's technically optional to include page numbers, but it can't hurt to be thorough.
Example:
Smith (2004) asserts that doing your homework is not a waste of time (p.10).
Homework is not a huge waste of time (Smith, 2004).
There is a general consensus that "…doing homework is worth every minute of hard work" (Smith, 2004, p. 10).
…it's an online article or website?
If you know the author of the online article or site, do the same thing as above. If you don't know the author's name, use the article title and year instead. When using titles, use the whole title unless it's a long title, then use the first few words.
Example:
On the company's website, Adams (2011) argues that drinking more than 8 glasses of water a day is potentially dangerous.
The university website clearly states "Student parking passes are only going to be issued to commuter students from now on" (College Parking Policy, 2016).
...the source has a bunch of authors?
APA has pretty specific rules on how to use in-text citations for multiple authors. Regardless of how you do this, make sure to keep the authors' names in the same order they appear on the book cover, article, or website.
How you cite multiple authors in APA will depend on how many authors you're dealing with. Here is an easy guide to help you decide on how to cite properly!
Example:
1 Author = (Smith, 2004)·      1 Author = (Smith, 2004)
 2 Authors = (Smith & Jones, 2005)
 3-5 Authors = (Smith, et all. 2005)
First time: (Smith, Jones, Michaels, & Perry, 2010) 
All after that: (Smith et al., 2010)
6+ Authors = (Smith et al., 1998)
…a bunch of sources say the same thing, and I want to cite them all?
This doesn't happen very often, but hey – if you want to refer to several of your sources saying the same thing, it's pretty simple. In parentheses, list the author names and years of each source, but separate each source with a semicolon.
Example:
Using animal testing in cosmetics is no longer necessary due to recent technology (Davis, 2003; Trenton, 2011; Marks, 2017).
…if I want to cite an indirect quote?
Also known as the "quote within a quote," citing indirect sources in APA is a little tricky. Introduce the quote by telling the reader who said it, and at add a citation at the end that indicates which actual article you got the quote from. The citation in parentheses should match the author and year of the source you put in your bibliography.
Whenever possible, though, try to find the original article the quote came from and use that. If you are unsure how to do this, ask your school librarian – they may be able to find the source online or through your interlibrary loan program!
Example:
Watson states "Living in London makes for an exciting career in crime solving" (as cited in Sherlock, 1995).
Thank you!
Please check your email.
Any questions?